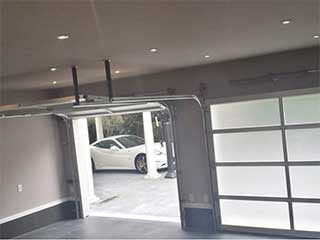 There are many different benefits to regular maintenance, especially when it comes to longevity. Your garage door can experience all sorts of issues over the years, but many of them can be prevented if you have a professional service your system from time to time. Our technicians will make sure that all the moving metal parts are properly lubricated and that the different safety features are all functioning correctly.
An Eye Exam
Your garage door opener uses photo eye sensors in order to detect when there's something blocking the door's path. This allows it to reverse the mechanism in time and prevent the door from closing down on that person or object. However, if the alignment of these sensors is incorrect, they will fail to detect such an obstacle, and your safety will be at risk. Our team will test these units to ensure that's not the case, and we will also make sure that the door's auto-reverse feature is working properly and that its travel and force limit switches are set correctly.
Keeping It Balanced
Another test we'll perform involves your garage door springs. These units support the panels' weight, and they can require adjustment every now and again. If we find your door can't stay open halfway and drops down or keeps rising instead, we'll carry out the necessary spring adjustment while adhering to the highest safety standards, in order to make sure the system is balanced and that no one is at risk of getting hurt.
Prevention Is Better Than Cure
Rather than only tending to your door when something goes wrong with it, let our professional technicians service it regularly and make sure that preventable problems don't end up costing you time and money. Call our team at Garage Door Repair Midlothian today and schedule a maintenance appointment.
We also take care of:

LiftMaster Chain Drive Lubrication

Belt Drive Garage Door Openers

Garage Door Cable Replacement

Emergency Garage Door Service