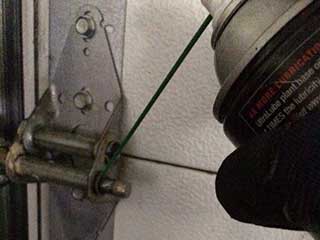 As you are probably already aware, a lubricated door is a healthy door! Lots of parts in the system need to be frequently lubricated. These include, but are not limited to, hinges, extension and torsion springs, and tracks. Regular lubrication will keep all these components in A1 working order.
Be A Smooth Operator!

A door which continually screeches every time you leave or arrive home can become extremely annoying, especially after a long day at work. Plus, you don't want to be in your neighbor's bad books! Thankfully, with regular lubrication, it's easy to eliminate this aggravating problem, meaning you can look forward to a smoother operation each time you open and close the door.

Extend Your Door's Lifespan

Regularly lubricating your rollers, tracks, and hinges will help to extend your door's lifespan and keep it operating smoothly. Infact, to keep your door running properly all it takes is a light spray of WD-40 every 12 weeks or so. You do need to seek specialist advice though when using any products which may potentially be harmful to your door. It's always a good idea to check out your garage door's user manual to confirm which products are recommended for your system in particular. You can also always call one of our skilled technicians who will be more than happy to assist!

How To Prevent Rust

In order to keep rust away from your system, it's a good idea to keep on top of the dirt and grime. You can do this by rinsing with a mixture of clean water and gentle detergent, and carrying out regular lubrication. Again, always use lubricant intended for your particular type of door and avoid rust-cutting oils - they're not designed for this purpose. For peace of mind, contact one of our local, expert technicians at Garage Door Repair Midlothian for further professional advice – we'll more than happy to hear from you!