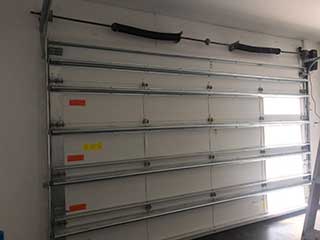 The last thing you want to do after a garage door spring breaks is to try and replace it by yourself. These components are in charge of supporting and counterbalancing the weight of the heavy panels, which means that they have to be loaded with tension. If you mishandle them in any way, you could get seriously injured by accident. Avoid the risks and let our professional technicians carry out any broken spring replacement or adjustment that you need without putting anyone's well-being at risk.
Which Type Do I Have?
There are two different kinds that are used today. Extension springs are the older of the two, and you can recognize them by the fact that they're located on each side of your door (it's always a pair). They work by stretching and contracting to help take most of the weight off you or your opener, depending on who's actually initiating the opening action. Torsion springs are the newer option. They require more headroom in order to be installed, but they're considered safer due to their higher flexibility and durability. In fact, sometimes a single unit is all it takes. You can find these components just above the door, running along a horizontal shaft.
Proper Maintenance Efforts
In order to get the most out of your garage door springs, some minimal maintenance is required. When it comes to extension units there isn't a lot that can be done other than regular inspection and timely replacement, however, with torsion springs, the longevity can be quite significantly extended. Our experts will lubricate them to ensure their smooth performance, and we'll test the balance of the door and adjust these components accordingly to reduce their working strain and ensure that the panels can open all the way up.
Get In Touch With Us Today
Need emergency spring replacement? No problem. Call our team at Garage Door Repair Midlothian and we will take care of everything. Our experts will be happy to help you with whatever you need.
Want more? Let us take care of:

Garage Door Opener Track Maintenance

Opener Remote Clicker Replacement

Extension Spring Adjustment

Roller Replacement