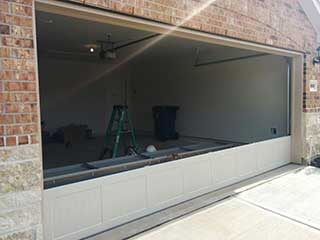 There are lots of different problems that your garage door can experience, from bent tracks to dented door panels. No matter what the issue is, our technicians at Garage Door Repair Midlothian can help; we'll work quickly to get your system back to 100%, and will make sure nothing else is wrong and that no other part is about to break down.
Frayed And Broken Cables
Cables can become damaged over time, and if they're not replaced before they break, they can pose a real threat; these components support the weight of the door along with the springs, and since the panels can easily weigh over 150 pounds, any potential weakness can be dangerous. Our team will identify any signs of fraying cables, and safely replace them if necessary. We often recommend checking your cables if you're having new springs fitted, since this is a convenient time to have them replaced.
Fixing Bent Tracks
It's easy to accidentally damage your door tracks when you're in the garage; moving tools around, retrieving sports equipment or even backing your car out can lead to you unintentionally causing some bends or dents. If this happens, your door won't be able to move as smoothly, which can cause big problems for your opener. Our team will safely position the door before loosening and adjusting the tracks; we'll then carefully ensure that they are properly straight and aligned, or we'll replace them with new ones.
Broken Torsion Or Extension Springs
One common problem that most homeowners will encounter is broken garage door springs. These components need to be replaced before this happens, but unfortunately, without proper maintenance, this isn't often the case. This type of job should only be carried out by trained professionals. These parts are under a lot of tension, and accidently mishandling them can cause them to break, which may result in serious injuries. Our technicians will safely secure your door before disconnecting the old springs and installing the new ones. Next, we'll carefully adjust their tension to ensure your door balances properly, an important part of the process that must not be neglected. We only use high-grade replacement parts to ensure reliability, and long-lasting service.
Emergency Response and Scheduled Appointments
These are just a few of the different repair services we offer; our team has more than a decade of experience handling all sorts of garage door problems, and we can help you with any issue you're experiencing. Contact us today.
Need more? We also provide:
Galvanized Torsion Spring Installation
Screw Drive Opener Replacement
Broken Garage Door Track Repair
Garage Door Tune Up Services